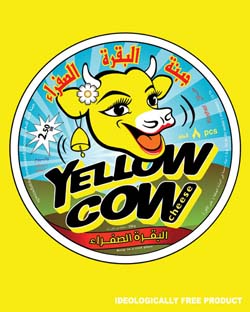 Met interesse volg ik de internationale website Your Middle East. Het is een mooie mix van politiek, economie en cultuur. Op een oproep voor bijdragen heb ik gereageerd. Vervolgens trok ik er een aantal weken geleden voor het eerst in mijn leven op uit als journalist. Bestemming was het Greenbox Museum voor hedendaagse Saudische kunst, in Amsterdam. Ik schreef al eerder over dit museum op mijn blog.
Het resultaat -waar ik heel trots op ben- kan je bekijken op Your Middle East, en hieronder. Een paar highlights:
"Saudi's have the position to influence, since they have this central position in Islam. Art is a universal language, but it is talking about different issues in different countries and there are different ways to express."
"You don't need to paint a nude woman to make good art and get a message across."
Enjoy reading en laat me weten wat je ervan vindt!
Q&A on contemporary Saudi art
Dafne van Baarle     Last updated: October 22, 2012
Aarnout Helb is the initiator and curator of the Greenbox Museum, the first and only museum in the world fully dedicated to contemporary Saudi art, somewhat surprisingly based in Amsterdam. Your Middle East had a chat with him about the origins of the museum, Saudi art and its artists.
Your Middle East (YME): How did you come up with the idea to collect and exhibit contemporary Saudi art?
Aarnout Helb (AH): "I was inspired by a visit to Singapore were so many different religions live well together. I was aware of Mecca and the special role of Saudi Arabia – as the custodians of the two holy mosques in Mecca and Medina. For this, Saudi Arabia is perceived by many as an important religious and historic center.
"I thought that it would be interesting to know how people think who live there, but I can't visit Mecca since I am not a Muslim. I started reading the Quran and because I was always interested in art, I started looking for clues about visual art in the Quran.
"I came across a story about a Yellow cow that is a pleasure to see (sura 2.69). When I googled for the meaning of this story, I found Ahmed Mater who has made an artwork about this. This was the first piece I purchased. I started collecting and in 2009 I opened the museum to the public."
YME: Tell us something about Saudi art?
AH: "Saudi Arabia doesn't have art schools, so all artists have a professional job. At some point, they have a drive to make art. Not everything is perfect, in the sense of refinement and marterials. The artists learn on the job.
"I like artists who work from concepts and ideas. Saudi's have the position to influence, since they have this central position in Islam. Art is a universal language, but it is talking about different issues in different countries and there are different ways to express."
YME: Who are the emerging artists?
AH: "Some of the artists that I like to mention include Abdulnasser Gharem who is an army officer. He went to school with two of the pilots from 9/11 and he expresses what these boys were thinking, in an abstract way. And telling us what is going on in Saudi Arabia. Most men involved in 9/11 were young Saudi boys. I find this a better way to 'understand' what happened on 9/11 than by looking at a portait of Bin Laden.
"
Ahmed Mater
, who is focused on the relation between religion and science. The Yellow Cow is a complex work of art, he calls this evidence based art. He is a doctor and he has to combine the fact that he was educated as a medical doctor and at the same time lives in a culture where the Quran and the word of God are of major importance. Sometimes these two points can be contradictionary. He has this talent of showing the unity of it all neverthess.
"Reem Al- Faisal, member of the Royal Family, who is a photographer. She has pictured the Hajj extensively. There's a picture of the Kaba'a in Mecca that focuses on the masses surrounding the Kaba'a and at the same time takes the individual -at the front- out of focus. Community is more important than the individual in Saudi society and she conveys this message with this picture."
YME: Tell us more about the development of contemporary art in Saudi Arabia?
AH: "In the 1950's, when the first oil money started coming in, contacts abroad started to develop. In the 1960's they sent some people to Italy to learn painting and some artist societies developed. Dia Aziz Dia was one of the artists educated in Rome. These artists had problems to survive, as there were not many people who were buying their art. Also, some religious people objected to some of the things they were doing.
"Eventually, many artists got regular or teaching jobs. There remained a community of painters who worked in semi abstract styles often incorporating traditional elements. The period of religious revival after 1979 did not do much to set people off in alternative directions.
"What is new in the internet era, is that artists are discovering that contemporary practices of making art beyond the boundaries of a canvas and conveying ideas in that way, actually stays very close to their traditional ideas that art serves the improved unity of society. So they go out into the street and wrap up a tree that was imported from Australia to discuss the way in which such imports affect the local flora and then say it is art and a metaphore (Flora and Fauna, Abdulnasser Gharem, 2007)."
YME: How about censorship? Are the artists affected by strict rules?
AH: "There is a good will in Saudi Arabia, at the highest level, to let artists express themselves. This means there is a positive climate for artists to work in. Of course, censorship is a challenge when artists push boundaries. If you do this with art, it doesn't have to offend people. You don't need to paint a nude woman to make good art and get a message across.
"For example, Maha Malluh has produced 'Food for Thought'. She bought old bread baskets and audio cassettes with intolerant messages on it. She physically puts the cassettes in the bread baskets and displays these on the wall. People no longer use the old bread baskets and she suggests the same course for some 'unauthorized' chapters of their ideology, which seem to have been responsible for a culture of intolerance."
YME: Finally, what do you think the future will hold for Saudi art?
AH: "There are many young people who are busy with artistic projects. 'It feels like an enormous reservoir and there is a vibe,' is what someone in Saudi said to me.
"If you ask my opinion? Some of the best Dutch artists, like Vincent van Gogh, were sons of village priests. If you consider the number of imams Saudi Arabia has, their children and their language and recital skills, there must be a great promise for thoughtful and elegant art in Saudi Arabia. A younger generation is being inspired by the work of the artists we discussed. Readers may keep an eye the coming years on the recurring Young Saudi Artists exhibition at Athr Gallery in Jeddah or on a new art space, which recently opened in Riyadh by the name of Alaan."
Zie ook: