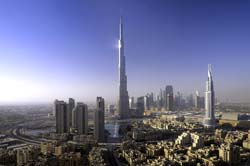 Recently, I went to Dubai (United Arab Emirates, UAE) for a training on behalf of KIT Intercultural Professionals. A full day training for an arriving expat couple from the Netherlands to prepare for their assignment in the UAE.
They specifically requested to be trained in their new country of residence, post arrival. On the day of the training, they had been there for nearly three weeks.
I noticed some clear advantages of training IN the market, when compared to training pre arrival. These trainings normally take place in the Netherlands a few days to a few weeks before departure to the new country of residence.
Advantages included:
The information I shared easily connected to their experience. The expats came up with examples, based on every day practice of these three weeks.

They knew what they wanted to understand better. This translated into 

very targetted questions

.

What they learned could be used immediately

 after the training. The fact that there is no time gap between the training and arrival in the new country prevents for a loss of information.
Interesting advantages that I think should be taken into account.
This post first appeared on the blog of KIT Intercultural Professionals.
Zie ook: