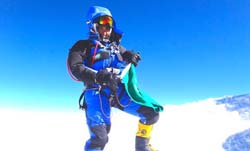 Recently, we have seen the media full with messages about Saudi women breaking boundaries. What does this mean?
Raha Moharrak was the first Saudi woman to climb the Mount Everest. She reached the top of the world in May 2013 as part of the 'Arabs with Altitude' expedition. Read more about this achievement here.
Then there is Haifa al-Mansour, director of 'Wadjda', a lovely movie about a ten-year old girl who dreams about a bicycle. Read more about 'Wadjda' or listen to this podcast interview with Haifa al- Mansour, the first Saudi female director of a full feature film.
In London 2012, the first ever Saudi women – Sarah Attar (800 m) and Wodjan Shaherkani (judo) – were sent off to the Olympics. Shaherkani's presence was unsure when her father objected to her not wearing the hijab. The International Judo Federation ultimately decided that she could wear a special sportshijab. Read more about these sportswomen here.
Is this a trend developing?
It surely would be an interesting one, because such messages in the media are important. These women can be future role models to Saudi women who don't have the same opportunities yet. The blanket of secrecy over social taboos – like women playing sports or women getting in touch with 'strange' men – is getting lifted by these stories. And this could result in more freedom for Saudi women to make their own decisions.
Hopefully, we'll hear about many more 'first Saudi women' in the coming months.
Deze post verscheen eerder op Your Middle East. 
Zie ook: